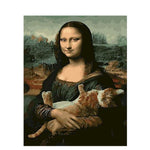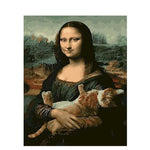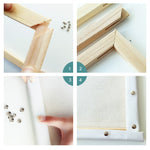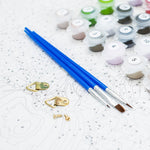 Please select an available variant
📦 Free Shipping. Taxes included
Immerse yourself in creativity and artistic magic with our incredible paint by number kit featuring the legendary Mona Lisa tenderly holding a cat. This captivating work fuses the mystique of classical art with the gentleness of four-legged friends, creating a unique piece that will amaze art lovers and cat lovers alike.

Kit features:

🎨 Superior Quality Canvas: Our pre-printed canvas is carefully designed to capture every nuance and detail of this famous painting. The fine texture of the canvas provides an ideal surface for expressing your artistic talent.

🖌️ Precision brushes: The brushes included in this kit are specially chosen for their precision and maneuverability. Every brushstroke will bring you closer to recreating this timeless masterpiece.

🎨 Quality Acrylic Paints: Our high-quality acrylic paints guarantee vivid, long-lasting colors that will add depth and life to your personal interpretation of the work.

🖌️ Numbered Color Palette: You don't need to be an expert at mixing colors. Our numbered palette guides you through the painting process, enabling you to create perfect shades at every stage.

🎨 Fun and Relaxation: Painting by number is a relaxing and rewarding activity that lets you escape from everyday stress while letting your creativity run wild.

🖌️ Unique decoration: Once completed, your work of art will be much more than just a painting. Hang it proudly in your living space or give it as a gift to add a touch of artistic sophistication to any room.

Whether you're a beginner or an experienced artist, this paint-by-number kit offers you an exceptional opportunity to connect with art in a new and inspiring way. Order now and immerse yourself in the enchanting world of the Mona Lisa with cat. Let your creativity flow and create a work of art that will turn heads and spark exciting conversations.
This paint by numbers represents the famous painting of the Mona Lisa holding a cat in her arms.
The paint-by-number kit is ready to use and contains all the necessary materials to create your work:
1 Numbered linen canvas (size: From 16 "x20"/40x50cm to 35 "x47"/90x120cm)
3 brushes of different sizes
Numbered pots of acrylic paint
A miniature photo of the artwork to guide you during the activity
A wooden frame (optional)
2 screws + 2 wall hooks (depending on the frame chosen)
Check out our blog post: The Complete Beginner's Guide to Paint By Numbers and learn to paint like an artist.
If not, you can visit the paint by numbers cat collection to see all the models representing your favorite animal. If you are not interested in this pet, discover all our models in the paint by numbers animals collection dedicated to all the paintings representing different animals.

Moreover, take advantage of our free shipping now.